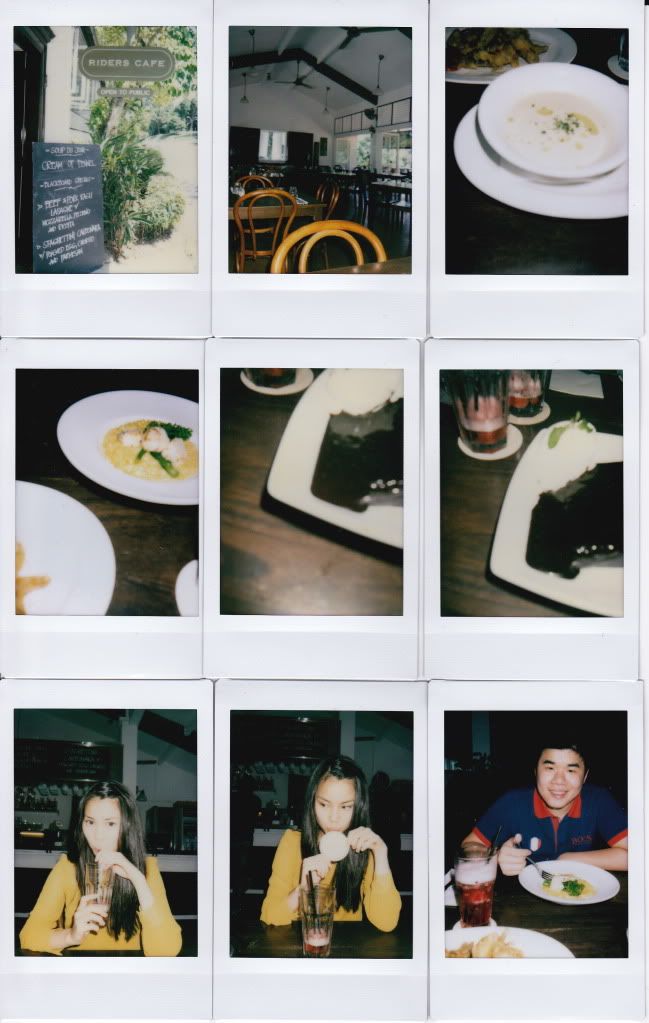 Riders Cafe
51 Fairways Drive
+61 6466 9819
Tucked away in a little corner of Singapore, Riders Cafe is a restaurant that I've often heard many laud about; but I've never actually been before. As H & I rarely meet in Singapore, Riders Cafe was actually a good idea, a good (and new!) place to have lunch, and to while away a lazy, Friday afternoon.

Located at the Bukit Timah Saddle Club, Riders Cafe exudes a certain, old colonial Singapore charm. Overlooking the saddles and shrouded by the greenery, the classic, quaint decor caught my eye as I was being shown to our table, and I remembered that I was gushing to H about how I want my future home to be done up in black, white and teak. There weren't many guests around at that time of the day, and it definitely added extra cookie points to the ambience of the place.
The soup du jour, Cream of Fennel is a completely new idea, and one which will make some wrinkle their nose. However, one have to keep an open mind- to find that the veggie soup was actually delicious; although it would be better if I could taste more of the fennel. The Soft Shell Crab Salad which I had, was completely misleading- as one would naturally assume that the word, "salad", connotes some sort of garden salad mix. However, it was just a huge platter of crispy soft shell crab- which would have been a pleasant surprise, have I not had the creamy soup earlier. Although I got to say, the soft shell crab was nicely done, and really flavourful.
Harrison had much more luck with his dish, his order was Saffron Risotto & Seared Hokkaido Scallops with Saffron and Baby Broccoli was absolutely divine. The risotto was cooked perfectly and the scallops were cooked just right; the smell, and taste of the saffron, as you can imagine, was heavenly.
As for desserts, the staff recommended us to try their signature, Death by Chocolate Cake with Vanilla Ice Cream. It may not be evident from the polaroids (actually, nothing is, except for our faces!) but when we both saw the cake, we were absolutely gobsmacked. It is not a good idea to have this sinful delight after a heavy main, and it is also highly recommended that you share it with not two, but three or four other friends. The cake was so chocolately, that you have to concentrate on moving your jaw slowly, to swallow a bite- but when paired with the vanilla ice cream, it is a chocolate lover's dream. It is so rich, so delicious, that although H stopped after three mouthfuls, I continued to go down the path of "death", by chocolate. Cliched as it sounds, it was absolutely worth it.