First of July. Today is definitely a day for indulgence. Sitting on my desk now, and I'm surrounded by... Food. Got a Katsu-Don take out from Elizabeth Arcade; Had a side of Matcha Milk Tea on the spur of the moment... And yes, I've still got a bag of Grain Waves on my left.
Okay, enough of me sharing about my foodie bender; (But I'm just so excited, I've finally, finally finished my assignments and I'm flying off next Monday! It's crazy!)
Was window shopping around the city; when I ended up, actually parting with my money. (Anyone like me too;p) Got a sweater with a gorgeous design on it; and a pretty, burnt red/orangey pleated maxi skirt; which I definitely will take a picture of, as soon as I can;
But the main thing is; I was browsing through the racks when I overhead Rosa telling her friends that she's got her hat for $3; and her skirt for $5; (owell, some ridiculous amount like that) and I did a double take. (My darlings from St. Lucia; we have to go to Indroo soon!) She's absolutely gorgeous! Loved her outfit from top to toe and I'm incredibly jealous of her velvet skirt! And I don't know anyone who can make that shade of green look so good!:D
(Why, why is it whenever I leave my camera from at home, I'll always end up bumping into incredibly stylish people?! Ugh, so much for the grainy pic)
And here's one of me; absolutely in love with my Supre maxi. If I can, I want to live in it forever! Definitely bringing it along with me to Italy; though it's Summer there... I don't know; I'd work it in... Somehow(: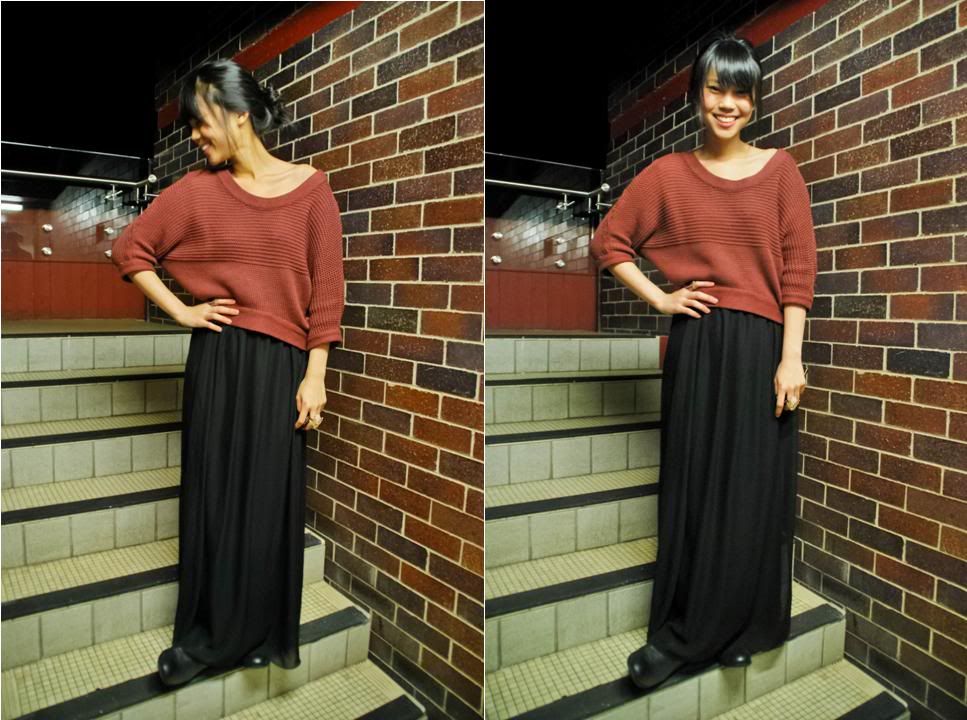 And I've bought my first copy of Russh magazine; the editorial is gorgeous! Will definitely have to scan in some of the pictures soon!
Okay, I'm done for today; off to watch The Shawshank Redemption now; have a happy weekend everyone! xx