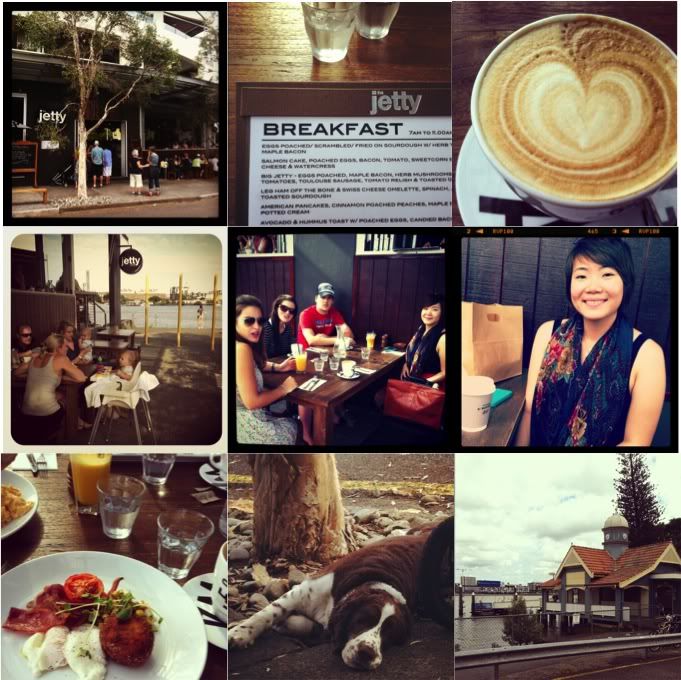 The Jetty Oxford
1b Oxford Street Bulimba
+ 61 7 3899 6113
1) Best to make a reservation before you go. According to my friend, Jen, it's incredibly busy during breakfast hours
2) The breakfast menu is quintessentially Aussie; think quirky names, and quirkier ingredients coming together, making a gorgeous breakfast for you to kick start your day. Think sourdoughs, sausages, egg benedicts, poached eggs, and lots of veggie.
3) It's hard to find awful coffee here; I love my skinny flat white; and the aroma of mine is enough to make any coffee addicts quake in their boots. (Either that or, I'm having a serious caffeine withdrawal as I'm writing this.)
4) Don't be fooled by the gorgeous Instagram effects; definitely a lovely Sunday morning- a clear, pretty blue sky, with a gorgeous view of the jetty.
5) The lovely people I have brekkie with; what early risers we are; (waking up at 7 for this.)
6) Due to a series of unfortunate event(s), Kim had her breakfast doggie-bagged; (there were eggshells in her scrambled eggs, and the staff were really professional about it- Not charging Kim for her portion, which is a plus. As my Service Management lecturer will say, "Good service recovery there!)
7) My lovely Salmon Cake w/ poached eggs, bacon, tomato, sweetcorn, cheese and watercress. The salmon croquette was really perfect; and the sides were a great accompaniment to it.
8) Love this cutie and especially his brown, spotted, freckly snout.
9) Located at the Bulimba Jetty; (the inspiration of the restaurant's name I suppose;) One thing I love about Brisbane is the history of the place. It may not be as old, or as fancy as the other European cities; buildings/structures like this is really what you see scattered across Brisbane. There's definitely a certain sense of nostalgia about this.