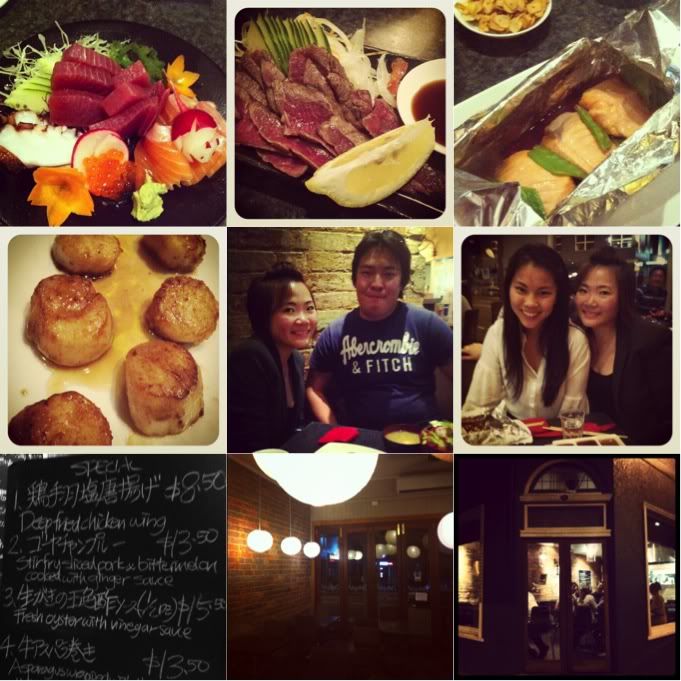 Bishamon Japanese Restaurant
500 Boundary Street
Spring Hill
+ 61 7 3832 3888
1) An assorted mix of sashimi; although Bishamon is less of a sashimi/sushi restaurant, the sashimi were really fresh, and the octopus sashimi was definitely one of the best (springiest) that I've had in a long time.
2) Wagyu Beef Tataki; although it was thinly sliced, you can still taste the aroma and flavour of the beef. Thanks to my dear Japanese friend, Junki, I've learned that eating the tataki with the pickled onions and vegs on the side, makes it so, so, much better.
3) Salmon Teppanyaki w/ braised eggplant; this is a dish (sans the teppanyaki part) that my mom often makes for dinner back home, and it definitely made me miss home (and her). The salmon was so succulent, and the flavour of the fish, eggplant and light gravy works perfectly together.
4) Scallops Teppanyaki- As you can tell, the scallops were really succulent; but it's a shame that the buttery sauce that the chef had cooked it with, had ruined the freshness of the scallops. Personally, I'm a fan of scallop sashimi/tataki; so it was a bit of a disappointment.
5) Kim, and Junki; It's thanks to him that we've tried Bishamon. As the saying goes... Go where ever the locals go to(;
6) The Happy Singaporeans, x
7) Was a little surprised when I saw Deep Fried Chicken Wings at the top of the Specials menu; but, throughout the evening, I've seen so many people ordering that dish, and it looks just amaaazing. (Well, it is, deep fried, greasy, yummy, chicken wings;p
8) I've always held a deep fascination for brick walls; and the interiors of Bishamon definitely reminded me of those in Melbourne. It may not be an authentic, Japanese restaurant, but the food, definitely is.
9) Many of you can probably relate to this; but when you go into Chinese/Thai/Indian/Japanese restaurants overseas; you may not always get food, that are, what you normally get back home. Singapore Noodles, anyone? (Never understood that dish; what is that anyway? We never have Singapore Noodles in Singapore-ever. But I digress...) So, when you are in a particular restaurant; and 90% of the customers are of that particular ethnicity, you know that you've got a winner. A quick check on google showed many customer reviews singing praises of Bishamon; and even our particularly picky Japanese friend gave his nod of approval for this restaurant. Hence, even if it is a particularly long, uphill walk from the city to Spring Hill, I know, that we'd be back again. Or, at the very least, I know that my good food obsessed flatmate, Kim, would drag me there. x